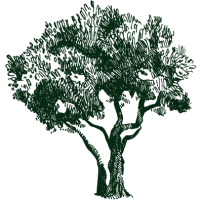 NATURE
BLESSED
Nature Blessed is a family-owned company based in Thessaloniki and is active in the processing, standardization and sales of extra virgin olive oil as well as in the production of condiments based on extra virgin olive oil. Our goal is to provide to our clientele, products with exquisite quality.
Our devotion and love for olive oi land its products, the "nectar" of the eternal Greek land, in synergy and cooperation with excellent and traditional olive growers who share with us common values and dreams, allows us to maintain a consistent extreme quality of our products.
The core criteria selection for olive oils are quality and sustainability, as also the physicochemical and organoleptic characteristics. We choose monovarietal olive oils such as Koroneiki, a variety with unique and exceptional taste and aftertaste as also multi-variety such as a combination of Chalkidikis, Amfissis, Koroneiki and others, whose co-cultivation in the same olive orchards and oil extraction together, give us a unique blend.
Our motivation, enthusiasm and dedication to high quality olive oil is a lifelong commitment. Our aim is to offer you through our products, a unique taste experience, always with respect for people and the environment. Our mission to spread the message of good health and prevention through the consumption of our blessed treasure: The Greek Extra Virgin Olive Oil.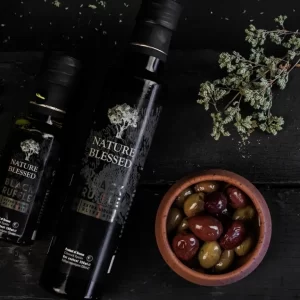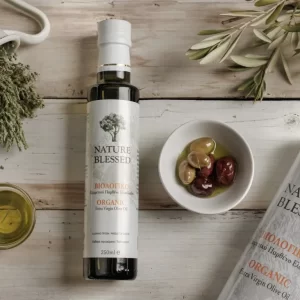 In the northern foothills of Olympus, at an altitude of 285 metres, our olive trees blossom in the pristine soil of Imera and give us the fruit that only gods used to taste. Divine Mount Olympus is an Ultra Premium Extra Virgin Olive Oil with a limited, numbered production. It is distinctive for its strong, fruity aroma and its fine spicy flavor with a light green olive oil tone, as picking is done only when the olives are a perfect golden green.
The oil's bright golden green color hints at its rich density of nutritious compounds and its mild processing, which highlights its divine velvety flavor, as its name suggests. This oil can provide the final touch of aromas and flavors that transforms a dish into a culinary work of art, for divine gourmet pleasure. Packed in a luxurious case, with finesse and prestige to match what it contains, Divine Mount Olympus has a striking presence that makes it the perfect gift for the chosen few.
Its very low acidity (no more than 0.2%) makes Divine Mount Olympus an Ultra Premium Extra Virgin Oil. Its high polyphenol content (including plenty of oleocanthal and oleacein) contributes to good health, protecting blood lipids from oxidizing stress. The olives are picked by hand, with their oil extracted the same day at appropriately low temperatures to preserve flavor and health benefits.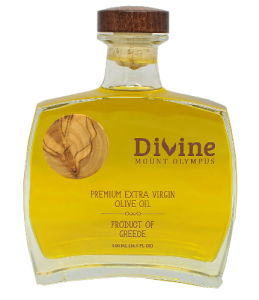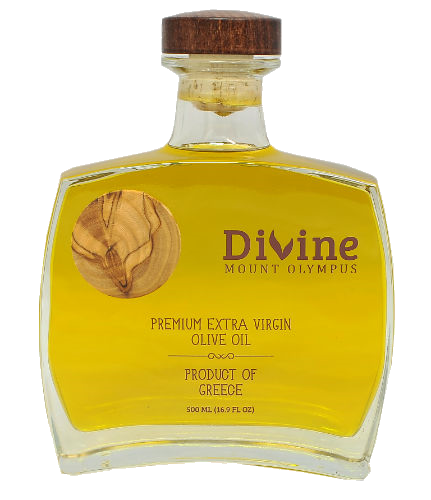 Hello! My name is Lemonia and I am from Thessaloniki, Greece. Do you like fairytales? I love them! My daughters too. Today I will tell you about a woman who was looking for a way to leave something valuable to her children through hard work. Something that would characterize her and symbolize her love for art and earth, her love for perfection. Wanting to create something special, she looked around and the first thing she saw was an olive tree. A tree that had marked her childhood, when she was dreaming in its shade. Instantly she decided to distil the dream-loaded tree and make olive oil, which would be herself. It would mirror the clearness she saw in her children's faces.
Personally, I can definitely say that her attempt has been fruitful and her children tasted yellow-golden olive oil, whose every drop contained a dream. One of her children is standing in front of you right now, proudly talking to you about this love-filled effort of her mother. An effort that fructified two years ago and produced one of the best and internationally awarded olive oils in the world. This effort did not stop at the production and continuous perfection of her dream. Moreover, it expanded to the pursuit of the ideal package. A package worthy of the product it includes. And here is where elegance and art come in. Values with which we in the family of Nature Blessed are inseparably connected. A sour mother wants the best for us, so do we want the best for her olive oil.
I will not even talk about the beneficial properties of olive oil. Nor will I mention the Mediterranean cuisine and diet. Besides, cuisines are not to be talked about, but to be tasted. Therefore, we invite you all to taste what our mother created for us and to feel what we feel every time we taste this olive oil. Taste Greece, taste quality, taste your childhood, taste your dreams.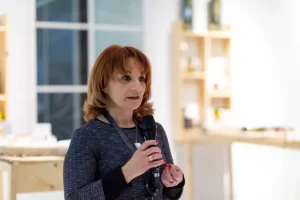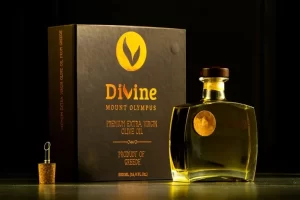 Nature Blessed Organic Extra Virgin Olive Oil
Nature Blessed Organic Extra Virgin Olive Oil comes from olive trees located in olive groves within virgin forests of Greece. Among them there are olive trees that are up to 1500 years old.
The olive tradition has been passed down from generation to generation and the respect for nature and the environment have brought sustainability so that we can enjoy today all the benefits of the treasure of the Greek land – olive oil. The cultivation of these olive trees follows the cycles of nature, the moon, the weather and without any human intervention except during the olive harvest. This ensures the purity of the fruit as well as its organic cultivation.
We take the virgin olive fruit that nature generously gives us and turn it into olive oil. An olive oil of high quality, nutritional value and a shield of health in our body. A gift from nature offered to you by Nature Blessed.
Acidity ≥ 0.2%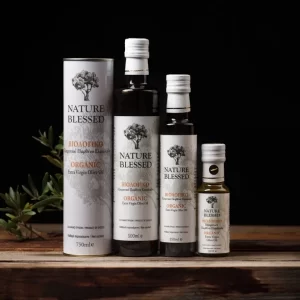 Nature Blessed created the Mediterranean Flavors series, the first condiment of Olive Oil that highlights all the aromas and flavors of Greek Cuisine. The Mediterranean diet owes its uniqueness to the Extra Virgin Olive Oil in combination with all the unique aromatic plants and spices. With this in mind, we created the Mediterranean Flavors line, in collaboration with renowned chefs and experienced food technologists, an ideal add on to the aromas of many recipes. All three codes of this series can be used to elevate any salad, pastry, grilled meats or vegetables, etc.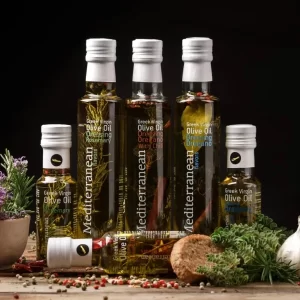 Nature Blessed with Black Truffle
The black truffle is a species of truffle native to Southern Europe. It is one of the most expensive edible fungi in the world and we we find it in the ground with the help of trained dogs and pigs, for its hunting. The truffle thrives in forests where there are, among other trees, oaks, lindens, beeches. Alkaline soil (not acidic) is a must and coexists with the roots of trees and shrubs. So, the majority of Greek mountains hide truffles on their soil.
Truffle is a very special natural product and that's why it requires special handling and careful use.
Nature Blessed® after 2 years of research and experimentation in collaboration with technologists and chefs, has managed to find the right proportion and give to the consumer audience, but also in catering, a range of products that excel in quality and taste.
The aroma and flavor of truffle in oil form, enrich the natural aromas of the extra virgin olive oil as well as of the excellent sesame oil.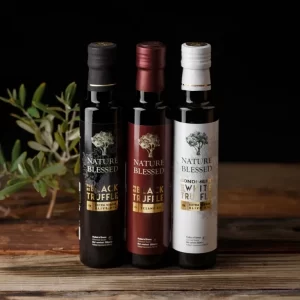 ALOADES BOOK
More information: https://aloades.com/aloadesbook/nature-blessed/